About Us
Duke excels at designing and building multi-family properties
Duke Companies is an experienced developer and builder focusing only on the multi-family industry. With a proven track record working with lenders, investors, landowners and other developers, Duke has succeeded by creating investment and building programs to fit the individual needs of our clients.

The goal of our company is simple: To build communities residents can be proud of and call home while at the same time to meet the economic requirements of our clients. Our comprehensive approach, combined with a relentless focus on the details, has allowed Duke to successfully develop and build hundreds of multi-family projects.
Timeline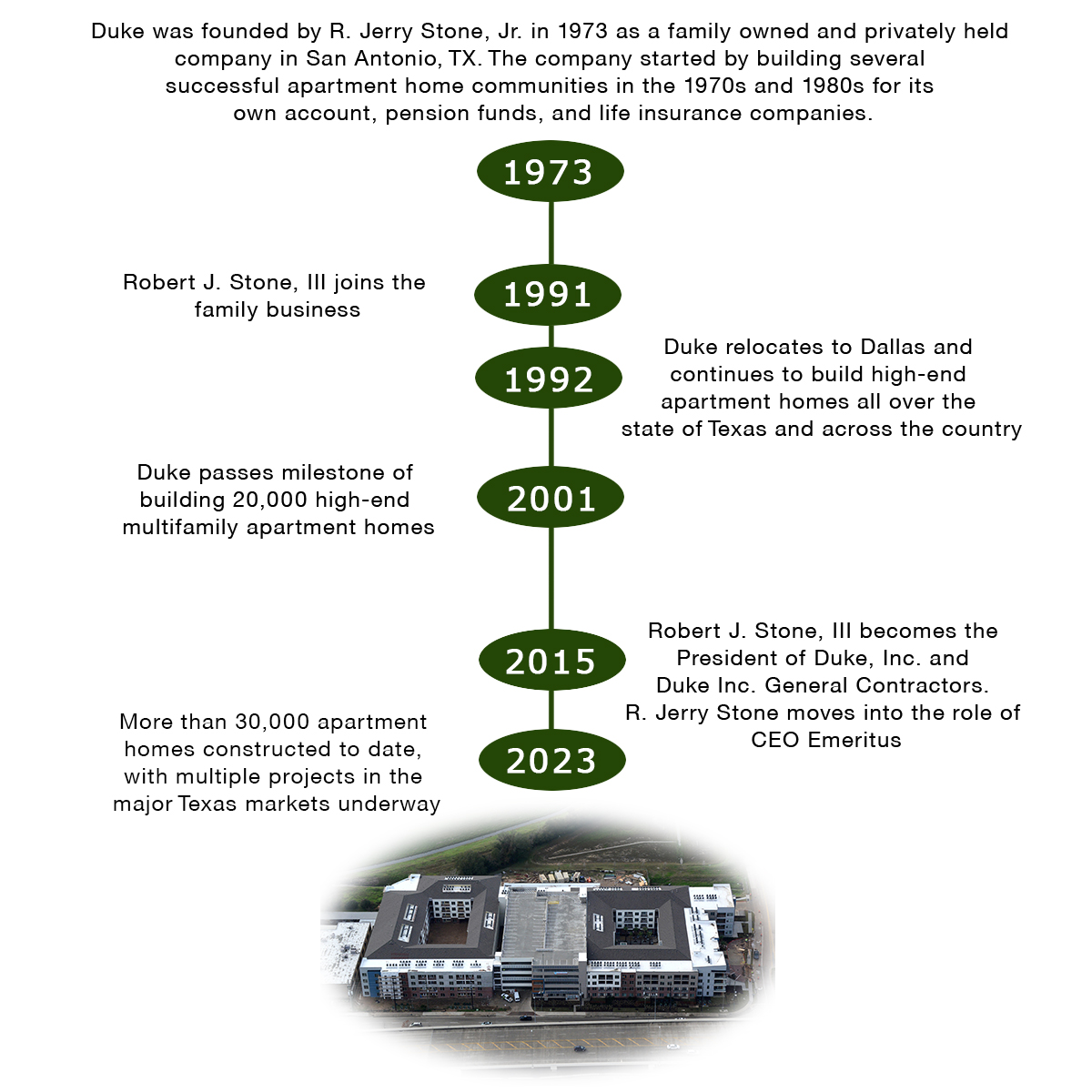 Our Team
Robert J. Stone, III
president
Robert Jerry Stone, III, "Rob" has been an integral part of the Duke Companies since 1991, serving in the various capacities of Assistant Superintendent, Superintendent, Project Manager, Vice President of Construction, Vice President of Operations and finally as President of the Company. The various roles Rob has held with Duke have allowed him to interact with Subcontractors, Inspectors, City Officials, Owners, Lenders, Lender's Inspectors, Insurance Companies, Vendors and Investors. Combining his education at The University of Texas in Urban Land Development with years of hands-on construction experience, Mr. Stone provides expertise in site acquisitions, development, estimating, budgeting, contracting, scheduling and all aspects of construction management.
R. Jerry Stone, Jr.
Chairman Emeritus
Jerry Stone, a fourth generation apartment builder and developer, has been involved in the development and construction industry since 1962. Mr. Stone has consistently integrated his innovative design concepts, value engineering experience, construction abilities and development expertise to produce a long list of successful apartment communities. Under his leadership, the Duke Companies have grown into one of the largest privately owned development/construction companies in the country. Shaping the company over the years into a full-service, full-spectrum company, Mr. Stone has developed and built over 30,000 multi-family homes. From site acquisition to construction to lease-up and ultimately property sales, Mr. Stone continues to take a personal involvement in each individual project and as Chairman Emeritus, continues to bring his knowledge, experience and expertise to each project Duke completes.